Do you want to make an extra $500 a month to help with bills, buy a new car, start your vacation fund or to simply earn money on the side or in your spare time?
Whatever your reason, finding ways to earn an extra $500 a month can really make the difference in terms of your quality of life.
And with everyone working from home during 2020-21 it's never been a more apt time to work out how you can make extra money, without a job, from the comfort of your own home.
After all, an extra $500 per month is $6,000 a year and that can have a really life changing impact.
That's why I've put together this humongous of 69 different ways that you can earn extra money. I'm pretty sure this is the biggest list of ways to make an extra $500 a month.
The list is divided into four main categories to make it easier for you to break it down, but bear in mind some of the money-making opportunities below do overlap.
The first category includes ways to make money online, like starting a blog and this includes some of the best side hustles and forms of passive income you can find.
The second category includes different ways you can earn money by working, either online or by finding existing opportunities online, whilst the third and fourth categories include ways to rent or sell things you already own to leverage your assets and make money through what you already have.
Change Your Money Mindset
Before you start exploring ways to make extra money online it's really important that you make sure you have the right mindset.
That's because most of us grow up with the belief instilled in us that only through a regular, 9 to 5 job can we, and should we, seek to make money. I know I did!
When you decide to make money under your own steam, you're kind of going against the grain. It's also pretty essential that you reposition your mind away from a default mode of spending money to a new default mode of making money.
If you want to find out a little bit more about why having the right mindset is so important read my guide about it: Discover A Wealthy Mindset and 12 Steps to Financial Freedom
But aside from that, no matter how little or how much you make, keep evolving, never give up and…
Enjoy The Hustle
1. Best Online Side Hustles To Make an Extra $500 a Month
One of the biggest changes in recent years has been the gradual realisation that maybe there isn't enough money to provide a constantly improving standard of income for everyone in society when it comes to old age and retirement,
Many young people struggle to even find a well-paid job and if you look at the cost of renting in most major cities around the world, then a graduate job barely even covers living expenses.
That's why more than 50% of millennials now work a side hustle to make extra cash from home and that number's only set to grow.
But if you find the right opportunity and monetise it properly then your side hustle could end up becoming your main source of income.
Before we get into the list let's be honest: not everything in this list will make you rich, but a lot of these suggestions could. How much you make from your side hustle depends on how much effort you put in, what kind of opportunity it is and how well you can add value and monetise it.
This guide is a great starting point; a chance to show you that money making opportunities exist everywhere when you know where to look for them.
Read it, bookmark it or pin it so you can come back when you need a little nudge in the right direction.
Start A Blog To Make Extra Money
Blogging is one of the best ways you can make extra money online today. Period.
It seems odd right? Especially when it's been around for so long. But the truth is that blogging has evolved into a massive industry in it's own right and the money-making ecosystem in which it operates grows bigger and bigger every year.
It's mostly down to the opportunities available in advertising, but more importantly, affiliate marketing which we'll come onto in the next point, but companies and brands have realised that their customers are more likely to buy from bloggers, review sites, social media influencers and popular celebrities than faceless or annoying adverts.
You can ride that wave, but only if you have a blog that you can monetise.
If you're not quite sure what your blog could be about or you need a little inspiration to get started check out my Guide About Blog Name Ideas, including 57+ examples to get you started.
And when you're ready to get started I've written a really in depth guide covering every single step you need to know in order to get your blog up and running:
I use GreenGeeks for hosting which only costs $2.45 per month.
And, yes starting a blog does take time, effort and determination to succeed, but the way I look at it is, all it costs is your time and the monthly price of a coffee, if that.
Blogging has the potential to change your life and earn you tens of thousands in passive income and affiliate revenue.
What other business ideas have that much potential and that little overhead?
Use Affiliate Marketing for Extra Income
If you've already got an existing blog or you're looking for a way to monetise your new blog then affiliate marketing should be at the top of your list.
So what is affiliate marketing?
It's simply a way of reccomending a product or a service. Either through a review, a guide or a personal recommendation. You act as an 'affiliate' for a brand and market their products to your readers.
It obviously helps if you only recommend products that you use because that builds your authority, plus it's more authentic, and trust people can always tell if you're not being authentic, yes even on the internet!
Let me give you an example; if you click on the GreenGeeks button in the floating sidebar to the left of this post, and then you purchase GreenGeeks hosting via that link, then I will earn an affiliate commission.
Personally, I think GreenGeeks really are awesome on so many levels.

Their customer service agents respond in minutes, my site is in the top 10 fastest percentile of all sites online and, most importantly for me, they literally suck carbon out of the atmosphere by being carbon negative by 300%.

This means they buy 300% of the energy they use from renewable sources and sell it back into the grid so that other companies are also using renewable power, rather than dirty fossil fuels.

And with the internet set to having a carbon footprint of nearly 10% global emissions by 2025, the work GreenGeeks are doing to reduce that is, in my opinion, pretty cool.
Remember, all successful blogs exist because they add value in some way to the people who read them.
Building value is as much about building trust with your readers, so avoid linking to products that are bad or your blog will rapidly lose readership and be consistent.
Affiliate marketing is most applicable to blogs that discuss products or services. Across this blog, and especially in the Financial Toolbox, you will find links to products and services we use to create wealth.
Watch this YouTube video to learn more about promoting affiliate services on your site:
Flip Websites For Fun & Profit
Flipping websites works on pretty much the same principles as flipping property. It's something Michelle Schroeder at Making Sense of Cents has done multiple times and in this article she even describes how she turned a profit of $8,000 with one site.
There's a little more to it than simply buying and selling a site. The key is finding a website that you can add value to.
It's probably a good idea to Start Your Own Blog first so that you can build up your knowledge about what works and what doesn't. Once you have become a website marketing genius, found a site that you can add content and value to then you will be able to use it to create a passive source of income OR sell it for fun and profit!
You can buy and sell websites on:
Get Cashback Whilst You Shop
Swagbucks is the market leading company when it comes to cash-back-apps that can help you earn whilst you shop.
They provide this in the form of actual 'swagbucks' or SBs that you accrue and redeem by earning free gift cards.
In fact if you use my referral code you'll get 300 Swag Bucks straight off the bat just by signing up.
Want to get started?
Here's what you need to do in 3 simple steps:
Earn Whilst You Shop (for other people)
If you prefer shopping in the real world, instead of online you can earn money by delivering groceries. You'll need to have your own vehicle and insurance but if you're looking for a flexible way to earn whilst shopping for others this could be for you.
Find out more with this full Instacart Shopper Review from the Dollar Sprout blog.

Fill Out Online Surveys
Filling in online surveys is not going to turn you into a millionaire.
That's because it takes time and filling in online surveys really requires your time and attention.
But… bear with me… the reason I included it is because it can be a fantastic way to make an extra $500 a month when you are exploring and setting up your other sources of passive income.
Filling in surveys does depend on how much free time you have, but Franciso over at PassiveIncomeWise actually managed to make up to $1,000 in one month just by filling in surveys.
With no setup or ongoing costs filling in surveys scores highly on the money rating but lower on time, effort and return. Keep it in mind for when you have some downtime.
Swagbucks is also the leading survey site so sign up above to get started.
Review Music Tracks For Money
Did you know you can actually get paid for reviewing music tracks and songs?
Slicethepie is the largest paid review site on the internet and they will pay you cash for every review you leave which can be a great way to make an extra $500 a month.
Reviewers have collectively earned a phenomenal $6,215,031!
Your opinion is valuable and you can effectively monetise it if you know where to look. Your feedback on tracks, clothing and lots more goes directly to help artists, record labels and brands make decisions. And the better your reviews, the more you will earn.
So if music is your thing and you have great opinions sign up below to find out exactly what you could earn for them. Sign up for FREE today.
Walk Your Way to Wealth with SweatCoin
Would you be surprised if I told you there are a phenomenal 51 Ways You Can Get Paid To Walk
Sweatcoin is the very first 'get paid to walk' walking app that I downloaded, which is why it's number 1 in my guide above. And I love using it.
It works by rewarding you with 'sweatcoins' for real world steps, which you can use to buy offers, goods, services, experiences and high-tech products. In fact I saw a Vanmoof Bike on one sweatcoin auction the other day. I didn't quite have enough sweatcoins to bid, but those bikes retail at around 2,000 bucks – which means someone got a free, luxury bike because of their walking.
You can also exchange your sweatcoins for amazon or PayPal gift cards and sweatcoin are looking to add a cash-out option in the future.
Get paid to lose weight with HealthyWage
You can even get paid to lose weight!
HealthyWage.com uses cash prizes to help you make weight loss and fitness more fun and effective, You can make a personalised bet on your own weight-loss with prizes up to a huge $10,000!
And you can even play with their very own Prize Calculator without commitment to see how it
Write A Niche Course
Online courses are some of the best ways to monetise your skills and experience. And if you get it right you can make way more than an extra 500 a month.
I know because I'm a huge fan of online courses – it's how I learnt to create a WordPress blog.
There are four major courses that I recommend for anyone looking to start a side hustle online.
If you need to learn more about SEO, Blogging Frameworks, Pinterest and Affiliate Marketing then I really recommend you buy these courses:
Undertaking these courses might seem like a bit of an investment in time and money, but only by learning from the successful course creators can you see what works, and trust me, when you want to know how it's done, it's best to take inspiration from the best. These course creators are hugely successful.
Even a simple $100 course that sells 10 units a month will earn you $1,000 plus.
And if you're wondering how these courses are technically put together then platforms like Thinkific and Teachable make the whole process of building your education empire as simple as it needs to be.
The important thing to keep in mind is how your course adds value. No one will buy it unless it educates and improves their knowledge. The courses above sell because they are useful and add value.
Create an Online Membership Site
Creating a membership site is the equivalent of creating an online community of like-minded individuals.
A membership site is a subscription-based model that lets you charge your customers a monthly or annual fee for access to exclusive content, member services and other benefits.
It's a great way to monetise your site because subscriptions provide recurring revenue and create a highly engaged community of new customers to your business.
There are some key questions you'll need to ask yourself if you decide to create a membership site:
And now it's possible to do without knowing a single bit of code. Of course you'll need to build out your when website first, which is why I've written this in-depth guide to support you in doing that:
The most important aspect of creating a membership site is to have a real passion for helping others because that's the added value that your members will be paying for.
Become a YouTuber or Start A YouTube Channel
When you want to make an extra $500 a month becoming a YouTuber is probably not for the introverted. That's because, for the most part, you'll need to be on camera.
But then again it really depends on what your YouTube channel is about. It's a similar process to starting a blog in that it helps if you have expert knowledge about a particular topic or niche because generally speaking, when someone clicks onto a YouTube video they want to learn something new relating to the search term they typed in.
You might be passionate about fashion, creativity, nature, the environment, technology, personal finance, video games or music.
Whatever it is you'll need to grow an audience, draw in viewers and up your YouTube traffic because the more people who watch the more money you can make.
Here's a quick guide to get you started:
Become a Social Media Influencer
If you want to take it one step further and become an all-out social media influencer then it pays to build followings across multiple social media platforms and, usually, multiple social media profiles.
Whether or not you'll make an extra $500 a month depends on a number of factors and although social media might seem like an odd way to make money some influencers earn six figures per month and, with the right strategy, it is possible. However you should bear in mind it's an increasingly crowded market.
That doesn't mean those opportunities don't exist, it just means that you'll need to be strategic about the direction you take if you want to earn. And if you already have a large social media following then, great, your good to go!
Companies will pay social media influencers to promote their products and services across platforms like Instagram, TikTok, Twitter, Facebook and YouTube.
You'll earn via:
Becoming an influencer probably isn't for everybody. You have to really love being in the spotlight and not everyone wants to be centre-stage, but it can be incredibly lucrative when you get it right.
Don't be fooled by all your favourite influencers who present a certain lifestyle. It can also be hard work and there's way more to it that laying around on a beach in the tropics.
Become a Brand Ambassador
Many companies are now in the business of recruiting their biggest customers and most loyal fans as Brand Ambassadors which, taking into account the target consumer, can provide the perfect way to make an extra $500 a month.
If you use a platform like Poshmark to buy and sell clothes and you have a big social media following, there's a good chance you could become one of their Brand Ambassadors.
Posh Ambassadors are role models in the Poshmark community who receive special benefits for their mentorship. Once you unlock Posh Ambassador status, you'll:
For more info, FAQs and instructions on how to sign up click here.
Create a Lead Collection Website
Creating a lead collection website is a form of affiliate marketing that focuses on a very specific niche.
This generally consists of a website focussed on one particular niche with the aim of generating leads (customers) and linking or funnelling those customers into purchasing a product or service.
It's how MJ DeMarco from Millionaire Fastlane made his first fortune. He started out as a Limo Driver and on a snowy morning parked in a Limo in Chicago somewhere he realised there was a gap. The rest is… all detailed in Millionaire Fastlane.
Create License & Sell Music
If you're a musician at heart and love writing, creating and producing music there can be some great ways to monetise your passion and creativity.
And it could be your path to making an extra 500 a month, or more. So if you're talented then there's a good chance that other people will appreciate your musical talents and be willing to pay for your music.
Busking is a great way to build your confidence, but selling music online is a great way to build your bank balance. You could even set up your own site and create a platform to sell directly to customers for even more profit, like Bensound.com for example.
There are some great places to sell your music online including:
Create, License & Sell Stock Images
If you've got a great eye for a photograph or some fantastic photography equipment which you know how to use then you have the opportunity to easily make an extra $500 a month.
You may be interested in: 21 Best Photo Management Software Plus 7 Sites For Selling Your Images Online.
Most stock image websites will pay you depending on how many downloads you get. Essentially you upload your best images and when someone pays a licensing fee to use them you will get a cut.
A great way to build up your portfolio and create a 'shop-window' to increase your profile and even sell images directly is to create your own site.
Remember once the photo is online it's there for as long as you leave it there so it can be a great source of passive income.
The best sites to sell your photo on are:
Create an iPhone or Android App
Creating a successful smartphone app could bring in a lot more than an extra $500 a month.
That's because there's a HUGE industry focussed entirely on creating interesting, useful and interactive apps that benefit their users.
Most of the work is focussed around the creative content and producing something that will be appealing to your target demographic.
And the best bit? Coding knowledge is not actually required.
What you choose to do is entirely up to you but when it comes round to the technical steps work through this Guide from Code with Chris and you'll have your app up in the App Store in no time at all.
Remember when you start a creative project with the ultimate goal of monetising it you're effectively creating your own 'online job at home' which means you need to be dedicated and committed to seeing it through.
And if you prefer to keep it creative and collaborate with a more technically minded partner, check out the services over at Fiverr to help bring your idea to market:

Create & Monetise a Podcast
If you've just got one of those voices perhaps a popular podcast is the best way for you to make an extra $500 a month.
Check out the full guide to setting up and monetising your podcast here.
Just like Radio your podcast will rely on adverts to sell airtime. Unlike radio it is online forever, scaleable and can be downloaded millions and millions of times (if you're popular!).
Create Games For Any Platform
If you're a Gamer and there's nothing better than staying at home gaming all day then perhaps creating games is going to be something that makes a great fit.
In terms of making extra money it's probably one of the most popular amongst gamers because it combines creativity and imagination with the capacity to earn a lot of money.
If you'd love to turn gaming and creativity into your perfect online job but you're not quite sure where to start, completing a course that will hone your knowledge and help you bring your ideas to life is a good place.
Get 25% Off ANY fiverr Course or Program Using Discount Code: LEARN25
Get 25% Off ANY fiverr Course or Program Using Discount Code: LEARN25
Make an Extra $500 a Month With Pinterest
Did you know it's possible to make an extra $500, and more, a month on Pinterest?
That's because Pinterest is more of a visual search engine than a social media platform.
That means people are using Pinterest with intent. Which means if you can write content that helps meet their search intent you can provide solutions, monetise your content and make money.
You'll need to take the following steps to get started:
Write content, articles, posts, reviews and guides that add value and help your readers
Set up a Pinterest Business Account
Learn how to create pins and boards
Join groups and grow your Pinterest profile
Drive traffic to your monetised blog
Earn money on your blog via affiliate marketing, advertising, selling products, courses or ebooks.
2. Earn an Extra $500 a Month
Sign Up For Fiverr Gigs & Sell Your Skills
Fiverr is a platform that can really open up a world of online opportunities. They are an awesome online marketplace that connects businesses with freelancers and educators with students.
The most popular, and highest paying, jobs according to Fiverr are in the following 8 specialities:
As with any marketplace, there is money to be made, you just need to know how.
The first step is to workout if any of the skills on Fiverr represent a good fit for you. If you're a writer, a graphic designer, a web developer, and animator or many other roles then there's a good chance you can find online work through the fiverr platform.
Here's what you need to do:
Register for a New Account – Get started by clicking the image below
Create a Seller Profile
Create a Gig
Send Offers to Buyers
Deliver Great Work
Get Paid

Teach English As A Foreign Language
There's a reason why teaching english as a foreign language is so popular amongst teens, college students and travellers… and that's the chance to experience another part of the world, the freedom to travel and the ability to learn and new skills!
And if you already speak English then great news! You're already qualified to learn how to become an English Tutor.
Get 10% Off TEFL UK Courses Using Discount Code: CB43CCC5
If you buy and complete a teaching English course from TEFL UK, you'll become qualified to teach English anywhere in the world or online.
Not only is it a great way to make an extra $500 a month its also a great way to experience a different culture. If your adventurous side would like to get out and see the world and pursue your passion then TEFL UK is here to make this happen in real life too.
Get 10% Off TEFL UK Courses Using Discount Code: CB43CCC5
Don't forget to use this discount code ▲ to make sure you get 10% off.
Become a Virtual Assistant
If there aren't too many opportunities for part time work available in your local area, you could always think about launching yourself onto the internet as a virtual assistant.
This is a role that you can do anywhere in the world, so long as you have a good internet connection and you can easily make an extra $500 a month.
Virtual assistants are remote personal assistants that manage all sorts of administrative tasks completely online. So you'll need to be handy with a computer and it helps if you have great communication skills and an ability to use different types of software.
One of the best ways to find out if being a Virtual Assistant is a good fit for you is to check out the existing virtual assistance services available in the video below:
If you're not quite ready, head over to Fiverr Learn where you'll be able to take an online course, brush up on your skills and get ready for a whole new world of money-making opportunities online.
Web Developer
You might really enjoy the technical and creative processes involved in setting up a website but are not as interested in maintaining it or creating an ongoing blog.
If that sounds like you then you could create your own online job as a web developer. You'll still need to learn all the skills involved in starting a website or blog, which is why it's worth checking out my start a blog guide below, and it's a good idea to take out a hosting package and set yourself up with a practice site, so you can hone your skills in web development.
Once you've built a dummy site that you can practice on, you could then look at creating some freelance sites for any entrepreneur friends who might need a new online presence.
I created my first website for a couple of friends of mine who created a fashion accessories business. It's the best way to learn, by doing, and it really taught me a lot about all the different elements involved in putting a website together.
And I had zero coding experience!
With WordPress it's easy to set up a website with no coding knowledge. And once you've built up your confidence, an a portfolio, you can register on Fiverr to sell your web development services to paying clients.
Odd Jobs on TaskRabbit
The TaskRabbit same-day service platform instantly connects customers with skilled Taskers to help with cleaning, home repairs, running errands and more.
The benefits of becoming a Tasker are:
Flexible work, at your fingertips: find local jobs that fit your skills and schedule. With TaskRabbit, you have the freedom and support to be your own boss.
Be your own boss: work how, when, and where you want. Offer services in 50+ categories and set a flexible schedule and work area.
Set your own rates: you keep 100% of what you charge, plus tips! Invoice and get paid directly through Taskrabbit's secure payment system.
Grow your business: Taskrabbit connects you with clients in your area, and ways to market yourself — so you can focus on what you do best.
Being a Tasker is much more profitable if you have a skill you can leverage, but the rewards can be significant. According to this money.com article some Tasker's earn in excess of $6,000 to $7,000 a month, so for the majority of regular tasks it should be easy to make an extra $500 a month.
Drive for Uber/Lyft
An Uber Driver in London recently told me that he earns £200/$283 per day in normal earning periods. Wow. On a full-time basis that's like 4k plus per month.
Of course you need to take into account car costs, fuel, insurance, tolls and any other associated costs you might be able to think of.
Still, if you've already got a car this could be a great way to earn extra cash when you need money desperately and fast!
You can sign up to drive with Uber Right Here!
And you can sign up to drive with Lyft Here.
Check out the advantages and benefits of both and, if you're unsure which is better, sign up for both!
And before you get started here's some top tips to make sure you become the best Uber, or Lyft Driver n your area:
Love To Write? Become A Content Writer
If you love to write there are a ton of ways to monetise your skill and creative flair, you just need to be willing to put that talent to good use.
Bear in mind that different writing gigs require different technical and expressive abilities. Here's a few of the top online jobs for writers that could boost your earnings:
Check out some of the best writing courses online so that you can get your writing skills up to standard so that you can think about taking on writing jobs that you can do from home:
Once your writing skills are up to scratch get yourself registered with Fiverr and start making money from your skills and experience. Once you've built a good body of work the sky is your limit. With over 50m+ transactions and a price range of $5-$10,000 per transaction there are endless opportunities to earn online when you know how to write.
Search Engine Evaluator
Search engines might seem like faceless, algorithm-driven machines dedicated to sorting and serving up the results you need fast, but in reality they rely on people, just like you and me, to provide the guidance and feedback on their results in order to keep them relevant and useful.
And this can help you to make $500 a month when your looking for a way to earn easy extra cash.
You can earn between $12-$15 dollars per hour and you can work anything from 10-30 hours per week, which makes this kind of online job a great fit for college students.
You'll need to register and complete an application process in order to be accepted as a search engine evaluator and the companies, and hiring pages, can be found right here:
Become A Professional Gamer
Depending on how hardcore your gaming abilities are and how much you dedicated yourself the potential to earn money via gaming is practically unlimited.
A professional gamer can earn anywhere from $25,000 to $1,000,000 per year and if, if you want to make an extra $500 a month online, well this one is entirely online. So how do you become successful? It's all down to your skill level, the game played and the tournaments you play in.
A majority of esports athletes earn $60,000 per year! The earning potential might sound great but it can be very challenging to create a professional gaming career online that will earn you this much money.
As you'd expect, it's a competitive environment.
But the opportunities are huge for the right person and it's not just prize money that can create an online income for you.
According to readyesports.com the income breakdown for professional gamers is varied:
You'll need to do your own research and go through these 3 key steps:
Find Your Game and Pick A Platform (console vs PC)
Get Really, Really, Really Good At Your Game
Jump From Personal Gaming to Professional Gaming and Join A Team
Proofread Other People's Work
Proofreading is the final review that any editor gives to their content, (any type of written content) before they publish it and checks for errors in grammar, spelling, punctuation, meaning and typos.
I have a confession to make, I am a terrible proof-reader! So please don't check this blog because I promise you it will be full of proof-reading errors.
But I do appreciate that some people actually enjoy spotting grammar and punctuation mistakes; not because they want to point out errors but because they simply have an eye for it.
Proofreading is a skill which mens, if you're good at it, you can easily make an extra $500 a month on the side.
If that sounds like you, then get yourself over to Fiverr and get yourself registered as a seller. The sooner you do the sooner you'll start earning!
Product Tester / Reviewer
Product testing is a great gig because you can do it from home, you get free products and sometimes you'll be paid to test items.
It's quite popular now so it may not well be the quickest way to make $500 a month but it's literally open to anyone with an internet connection.
You don't need any skills or qualifications, but bear in mind that if you're testing footwear the company sending it to you may require you to use them for several miles in order to test effectively.
Swagbucks Discover is the leading resource for finding the latest product testing opportunities, free samples and deals. As it's constantly updating, make sure you register so you'll be in the know when there are new opportunities.
Swagbucks can help you find product testing opportunities and can also help you earn Swagbucks when you use it's dedicated portal to access these opportunities.
You can then redeem these swagbucks for cash or gift cards.
Become an Audio Transcriber or Translator
Transcription is when a person listens to audio recordings and types down exactly what they hear word for word. And translation is when you do the same, but into a different language.
It's a simple, straightforward online job that can be done from anywhere in the world with an internet connection, making it a fantastic addition to this list of opportunities for anyone looking to make an extra $500 a month. You'll need all of the followings skills:
If you like working on your own and you think transcription might be right for you there are literally thousands of transcription jobs available worldwide.
GoTranscript is a thriving web-based transcription company that has many transcription roles available online that will enable you to work from home. They have competitive rates for transcription jobs with top monthly earnings of $1215 per month. You can sign up here.
Get Any Online Job
Did you know that there are now more, proper jobs available online than ever before for people of all backgrounds, ages and experiences?
FlexJobs.com is the leading online platform for work-at-home opportunities offering you flexibility and remote working opportunities. So if you're looking for actual online jobs suitable for anyone right the right skills and experience this could be for you.
It's a great option for those who is looking to make an extra $500 a month (or more) than this is the site to register with.
It's a paid-for service but at only $6.95 per month it's pretty good value when you consider that it could change your life forever.
FlexJob benefits include:
The biggest hand-screened database of remote and flexible jobs!
Top employers from all industries around the U.S. and the world
Skill test, job search checklists, and expert content
Discounts on 60+ job search and work-life products and services
So if online working is the way you see your future unfolding and you prefer the structure and working relationship in working for somebody else then make sure you get registered with FlexJobs.com to take advantage of the kind of opportunities they have available.
3. Rent Stuff to Make an Extra $500 A Month
Rent Your Car on TURO
TURO is the Airbnb of cars. It's a fantastic idea with the intention of making all the unused cars parked in people's driveways into passive sources of income. So when you need money desperately the four wheels you have parked outside could in fact be a game changer.
TURO will install an automatic unlocking device into your car so that you don't even have to meet the people who book your car and you can either decide to organise professional car cleaning between trips or clean the care yourself.
I rent my car on TURO and earn over £600/$774 per month during the summer. Check out my earnings profile below:
My car was pretty much booked every single week and the only time it wasn't booked was when I had to block it out for personal use from Oct to Dec.
TURO provides a choice of insurance policies with up to $1 million in liability insurance.
In just 6 months I made well over £2,000/$2,575 across 3-4 months which would have been more had I not needed the car for some weekends.
So if your car is sitting empty on your drive, check it out and turn a liability into an asset.
Rent Your unused Parking Space
No car, no problem! Rent out your unused driveway or parking space (if you have one).
It might surprise you how much you can earn.
In the US you can use a company like Stow It connecting storage space with, well people who need storage. In the UK there are companies like JustPark who lead in the parking space sector and who provide healthy commissions to anyone providing parking space via their site.
Rent Your Spare Room
Known in the UK as a 'getting a lodger', or 'roommate' in the US your dejected spare room can be a significant source of passive income, depending on where you live.
International cities can command as much as $1,000 or more for a room. In some places, that's a full-time salary!
If you don't own your apartment it's important to double-check that your landlord permits you to sublet your spare room. And how much you make will be dependent primarily on the location, but also the size, quality and furnishings available.
You'll want to make sure you get references, a deposit and organise a contract. It's nothing that a few hours of work won't sort and you can check out this full guide here.
But there are plenty of regional websites focussed on the apartment-sharing sector. If you have a space lying empty maybe think more creatively about how you could use it to generate cash.
Rent Your Place on AirBnb When Your Away
Airbnb has created a whole new industry out of people's spare rooms and empty apartments. With some magical places to stay online AirBnb is the number one room stay sharing website for accommodation outside of the traditional hotel sector.
Apartments, houses, lodges, huts, treehouses, you name it, are available worldwide in every type of location you can think of.
If you've got a flare for interior design and a knack for knowing what people want maybe it's time to turn your home into a profitable, part-time asset.
You can outsource your Airbnb management to one of these property management companies to make it a completely passive free source of income.
Rent Out Space For Storage
The self-storage sector has grown massively in the last few years and alongside it, the peer-to-peer storage sector has also increased.
Prices are cheaper than commercial self-storage units and spaces are insured, so if you have an abundance of extra storage space why not think about catering to those who don't and turn it into a cash producing asset.
Some of the leading companies operating in this sector, who will help you get set up, are:
4. Sell Stuff to Make an Extra $500 A Month
Sell Stuff on Amazon
I have made thousands selling stuff on eBay and Amazon and once you get into it, it can be strangely addictive. The things people will buy!
It's also a great space for selling products that you might have acquired. For example, when I wanted to reach a wider, international audience for the fashion accessories brand that I set up (see Passive Income Idea #41) I complimented that business by simultaneously selling online via Amazon.
It's not the most passive of income ideas unless you can pay someone to manage your stock, postal and returns for you but it is a good way to generate some extra cash from the stuff you no longer use or the products you'd like to sell.
If you wanted to scale up your eBay or amazon stop you could consider dropshipping. Bear in mind that dropshipping has been compared as the modern-day equivalent of the gold rush, so as an option for making money, it may not be the most sustainable choice out there.
Sell Your Unused Clothes/Furniture On Poshmark or eBay
A great way to make money fast from things you no longer need, or perhaps have never used, is to go through your wardrobe and sell unused clothes on Poshmark or eBay.
Poshmark has a focus on clothes, home decor and beauty, whilst you can sell pretty much anything on eBay.
You'll need to get creative with your photography and make sure your lighting and background is good for your product shots.
A blank background is preferable and if you've got image-editing skills even better.
Always send your items well packaged, via recorded delivery to make sure they reach your customers complete and make sure you value your items at a decent price to make it worthwhile. Check the competition to see what's on offer.
Sell Your Old Cellphone and Old Electronics
Selling old mobile phones and old electronic devices has become a huge industry in its own right due to the ever growing demand for laptops and mobile phones around the world.
With new models usually being very expensive there's hundreds of businesses willing to recycle, refurbish and resell your electronic items and they'll pay you to do it.
Head online and see what you could get for your unused mobile cellphone and if you want to see what kind of price you could get, check out Comparemymobile.com.
Sell Any Unused Gift Cards
Did you know that you can actually convert many gift cards into cold hard cash?
This can be a fantastic way to raise a bit of extra cash quickly but bear in mind that because you'll be using a service to convert your gift card to cash, that service will take a 10-20% commission in order to do so.
Whether or not this will make a lot of money for you depends on how many gift cards you have and how generous your friends and family are!
If you've got some gift cards lying around that haven't yet expired head over to the following websites to see what you could get:
Have a Garage or Yard Sale
You can also sell things you no longer use right in front of your house!
Choose a beautiful sunny day, lay it all out on some tables, price it up and see what interest you can raise. You might be surprised just how much people are willing to pay for the things you no longer use.
Plus it can be a great way to meet the neighbours and make some new friends.

Having a Garage sale can be a fun and productive way to raise some much needed cash in a short amount of time.
Sell Your Graphic Designs/Art Online
Perhaps you're a graphic designer with a flair for creativity, form and function. Have you thought about designing and selling popular graphics and icons alongside templates or plugins on an online marketplace.
This is my friends, Emily's, online Etsy Shop, Rather Nice Art:
It's a great way to use your skills and talent and add them to your list of passive income ideas.
Thousands of professionals and entrepreneurs need good graphics to support their marketing and PR across their online activities and multi-million dollar businesses have been created off the back of good graphic design.
Whether or not you make an extra $500 a month depends on the type of designs you create, the quality and the demand for them.
But if you think you have a talent for it there are tons of websites that will help you to monetise your creativity and there are loads of opportunities and jobs waiting for you to take advantage of. Head over to the Top 17 Sites to Sell Your Creative Designs at Creative Bloq to find out how.
Sell Digital Templates
Sounds interesting, but what IS a digital template?
Digital templates are creatively designed templates that require little to no maintenance and provide your customers with the creativity and flair of a well designed digital template that can be purchased and printed.
And you can make a lot of money because this kind of income is scalable.
You can brush up on your digital skills or learn something new by taking an online course:
You may have seen the end result of this on blogs and websites, they are often referred to as printable and can include:
This is a short list but it can be as large as your imagination. If you want even more ideas check out 101 Digital Products You Can Sell Online
And for selling? – Check out the Best Place to Sell Printables online.
Digital Products are infinitely scalable because once you have created them there is no further work to do except provide your army of customers with their digital download links.
When you are brainstorming passive income ideas, remember that people may be willing to pay for your design, creativity and flair, so keep all options on the table!
Sell on eBay, Etsy, Decluttr, Craigslist
eBay has replaced the traditional Neighborhood Garage Sale in some ways but that just means there's more opportunity to sell to more people the things you no longer need than ever before.
After all, there's way more people on eBay then you'd ever get walking past your house, even on the sunniest days! That doesn't mean they'll all click onto your eBay shop.
You'll need to take the following into account in order to set up a decent eBay business:
And it's not just eBay that you can sell on, there are a ton of platforms out there ready and waiting to help you make money from all of the stuff you no longer need.
Decluttr: Good for high value textbooks, old electronics
Etsy: Good for Arts and Crafts, printables, graphic designers, artwork, photography, clothing, and other items with a creative element
Facebook Online Marketplace: everything from electronics to small appliances
Poshmark: Good for fashion, home decor and beauty
Buy & Sell Domain Names
Buying and selling domain names is as old as the hills (actually it's as old as the internet) but you know what I mean. And for anyone who wants to make an extra $500 a month… it can still be pretty lucrative.
A friend of mine bought a 3 letter domain name and sold it to a big brand in the UK for £250,000 / $325,000 back in the day. Unbelievable!
Although you might not find those domains, or those kinds of values now, it doesn't mean you can't generate a great source of passive income from buying and selling domain names.
There's a huge market for it. You can read through GoDaddy's Guide to selling domain names for profit and get your imagination going by using

Namecheap Domain Deals below: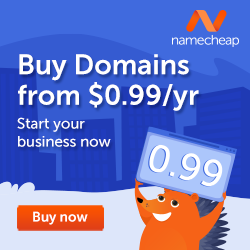 Sell Through An Online Store
When you start an online store you are creating the equivalent of a real-world bricks and mortar store, but with the potential to sell to the entire world!
This means there can be a substantial amount of time, energy and effort required in the initial set up of your business but you could make much more than just an extra $500 a month.
Once your online store is set up it's possible to create a more passive model for your business by using a fulfilment centre and employing a customer service centre to outsource your most time-consuming tasks.
It's more entrepreneurial and requires hard work and effort but it could make you rich. Ben Francis stepped up Gymshark when he was 19 years old. And now his company is valued in the billions.
You can get started with an online business in a few clicks by taking out a subscription to a platform like Shopify which provides an all-in-one commerce platform to start, grow and manage your business.
But realistically speaking the best way to start selling through an online store is to create your own site. It could even form part of a blog or be a standalone site that helps you to promote your products.
If you have a product you're passionate about and a knack for selling then setting up your online business could be the thing that rakes in a considerable income over the longer term.
And once you're up and running make sure you check out these services from Fiverr to optimise your online store for maximise revenue generation:
What's Stopping You From Making Extra Money?
If you want to make an extra $500 a month I really believe one of the biggest challenges you can face is figuring out the best side hustles is the confidence to go out and put your creativity into action.
That's why adapting the right mindset is so important.
And if you've gotten down to the bottom of this list, firstly well done – it's huge and took my a while to put together – and secondly the point of this list isn't to try every single idea on it, but to show that once you've got the right mindset there are literally hundreds of ways you can create a side hustle.
I personally have tried 22 ideas on this list and I've got several more on my own list that I'm working on. Not all of them worked for me, but that's Ok, I had the mindset to give it a go. And eventually I found the right side hustles for me that enabled me to quit work and focus full time on my blog.